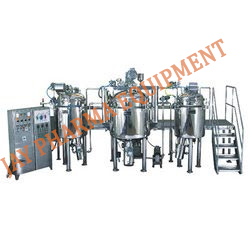 Avail from us, high performing Ointment Manufacturing Plant that is an ideal tool for the pharmaceutical & cosmetic industries for the production of Ointment, Cream, Lotions, Tooth Paste & other emulsions & homogenizations. This plant is specially designed to take care of two critical factors which directly affects the quality of the Ointment / Creams.
Salient Features
Suitable for dry mixing of products in powder form
Easy for loading and unloading
Easy for cleaning
All contact parts are made out of SS304/SS316 or SS316 L quality material, as per customer requirement
Simple design requires minimum maintenance
Minimum man handling of Ointment
Negligible vacuum drop during mixing & blending
SPM Ointment Plant consist the following equipments and accessories
Manufacturing Vessel
Wax Phase Vessel
Water Phase Vessel
Storage Vessel
Vacuum Pump
Control Panel
Product Piping
Working Platform
Material Transfer Pump to Transfer material from manufacturing Vessel to Storage Vessel & Storage Vessel to Ointment ( Tube ) Filling M/C
This system consist of a closed circuit manufacturing facility from feeding of Wax / Water Phase to loading the hopper of filling machine
The Wax and Water at required temperature are transferred to Manufacturing Vessel or Planetory Mixer, by vacuum through conical filter
The product during emulsion formation is recirculated through Ointment Transfer Pump The Pump also discharges the product in the Storage Vessel
The Storage Vessel is then taken to the filling area and is connected to again Ointment Transfer Pump. Or Storage Vessel remain fixed ( In bigger size ) & pump transfer the ointments in the hopper of the Ointment Filling Machine
The entire Plant can be operated by centralised operating panel by one operator
The plant is equipped with an electrical control panel with digital temperature indicators and digital timers
Minimum two batches per shift of the same product can be assured in this plant
This plant conforms to CGMP standards (Paint Free Construction)
Enclosed are a few pages explaining the system in detail. In case of any queries feel free to contact us
Optional Features
The Plant is designed to be operated only by one operator and one helper.

Our Product Keywords
JAY PHARMA EQUIPMENTS, OINTMENT, AUTOMATIC OINTMENT MANUFACTURING PLANT, OINTMENT MANUFACTURING VESSEL, OINTMENT MANUFACTURING PLANT IN MUMBAI, OINTMENTPLANT MANUFACTURERS IN VASAI, OINTMENT VESSEL MANUFACTURER IN MAHARASHTRA, OINTMENT PLANT MANUFACTURERSIN GUJARAT, OINTMENT MANUFACTURING PLANT MANUFACTURERS IN INDIA, AUTOMATIC OINTMENT MANUFACTURING TANK, OINTMENT MIXER MANUFACTURERS, SHAMPOO MIXING TANK MANUFACTURERS IN INDIA, TOOTHPASTE MANUFACTURING PLANT, TOOTHPASTE MIXER MANUFACTURERS, LOTION MANUFACTURING VESSEL, OINTMENT MIXER MACHINE, OINTMENT PLANT MANUFACTURERS, OINTMENT MIXING VESSEL, OINTMENT MIXING TANK, OINTMENT MAKING PLANT, OINTMENT PLANT EXPORTERS, CONTRA MIXER, CONTA BIN BLENDER, CHAWANPRASH MIXING VESSEL, JAM MANUFACTURING PLANT, LOTION MANUFACTURING TANK, VESSEL, GEL MANUFACTURING TANK PLANT VESSEL, ORAL LIQUID SYRUP PLANT, LIQUID ORAL SUSPENTION PLANT TANK, CHAWANPRASH MANUFACTURING TANK IN MUMBAI, CHAWANPRASH MANUFACTURING TANK IN INDIA,CHAWANPRASH MANUFACTURING TANK IN MAHARASHTRA, KATTHA MIXING TANK, JAY PHARMA JACKETED KETTLE, INLINE HOMOGENIZER,INLINE HOMOGENIZER MANUFACTURER, INLINE HOMOGENIZER MANUFACTURERS IN MUMBAI, INLINE HOMOGENIZER MANUFACTURERS IN GUJARAT, INLINE HOMOGENIZER MANUFACTURERS IN VASAI, INLINE HOMOGENIZER MANUFACTURERS IN INDIA, INLINE HOMOGENIZER MANUFACTURERS IN MAHARASHTRA, INLINE HOMOGENIZER MANUFACTURERS IN MUMBAI, HIGH SPEED ONLINE HOMOGENIZER MANUFACTURERS, MIXING TANK MANUFACTURING FROM MUMBAI, MIXING TANK MANUFACTURING FROM MAHARASHTRA, MIXING TANK MANUFACTURING FROM INDIA, MANUFACTURERS OF TOOTHPASTE, OINTMENT CREAM MANUFACTURERS IN INDIA.
All material transfers are done by vacuum or by transfer pumps
All the vessels are CGMP (paint free construction)
The gaskets used are of silicon (food grade)
All contact parts are of S.S. 304 quality material (SS316 provided on demand) & finished to class 4B (Mirror) finish and are crevice free
The entry of all agitators are from top & High Speed Emulsifier from bottom or In-line Emulsifier ( as per customer choice )
All vessels are suitable for internal pressure of 1 Kg. / Sq. cm. and hence can be sterilized
All pipes, pipe fittings and valves are of SS304 / SS316 ( as per customer requirement ) seamless quality, internally electro polished, with tri-clover ended joints
The entire plant is equipped with CIP & SIP connections, so that customer can use this facility, if have CIP & SIP equipment
All values of temperature & time of the plant are indicated digitally on the control panel. Ampere indicates on Ampere meters
A micro processor based automatic operating plant can be designed as per requirement
All the inlet & outlet connections are provided with tri clover joints, which are very easy for cleaning & replacement