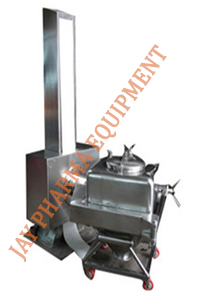 Description
Conta Blending system has replaced completely the conventional blenders like 'V' shape / Double cone or Ribbon type.
It is a latest cGMP concept with an emphasis on the dust free transfer of powders and granules at different stages from sizing / dispensing to compression / filing of Tablets or Capsules.
The process involves collecting the sized granules in a Container, wheeling it to the Blender, engage the same with clamping system, lift and tumble for the prevalidated time in set number of rotations.
Jay Pharma developed CONTA based on Pharma industries feedback on its Cage Blender which still is a market leader in this segment.
Conta Blender has a flexibility of Batch Volume.
Varying size of containers can be mounted on a drive console which is equipped which clamping cage.
Batch size variation achievable in 500 Kg.
Model for example, is from 75 Kg. to 500 Kg. using two different sizes of containers.
The mixing efficiency is better than the other type of tumbling blenders like Double Cone, V or Octa as they rotate in a diagonal and in a eccentric plane.
It shuffles the product intimately resulting in homogeneous blend within 5-20 min.
Salient Features
0 stopping for easy docking and undocking of the bin.
A suitable fencing around the cage with an entry point for the bin on detachable trolley.
Limit switch on entry door to prevent the accidental operation of the cage.
Flexibility of accepting variable bin sizes providing wide range of batch volumes.
cGMP construction with cladded polished S. S. sheets.
The charging hole with cover is provided on top with quick opening and closing arrangement with dust proof joints for particle free transfer.
Built-in Butterfly valve (150 mm dia) at the bottom suitable for discharge.
Suitable leak proof vent on top.
Capacity available 2 to 1000 Kgs.
Advantages
Highly effective for low volume active blending with as low as 1 % active.
Processing of different sizes of production batches in single equipment with scale up data.
Dust-free operation in solid dosage processing area.
No risk of De-blending on extended processing.
Containerised transfer of processed material avoiding manual scooping.
No Cleaning down time as the product container is mobile.
Application
Blending of dry powder for capsules
Blending of dried granules for tablets
Closed system containment of processed powders/granules
Single step transfer from Drying to Compression/Filling equipments with reduced material handling.